Abengoa's human resource management model is based on competencies, which therefore facilitates integration between strategic objectives and the position and individual, while helping to identify talent.
Abengoa is aware that in the current environment characterized by innovation and change, the performance of its professionals and the company's ability to attract, develop and retain talent are the keys to success. Abengoa is therefore firmly committed to human resources with the twofold aim of:
Promoting, maximizing, transmitting and managing knowledge, making the most of the expertise of its professionals; guiding them in developing competencies, and striving to make sure that Abengoa has the right people for each position, mission and duty.
Making Abengoa a company with the right conditions for developing talent, one that is attractive in terms of its environment and conditions, and in its people management model.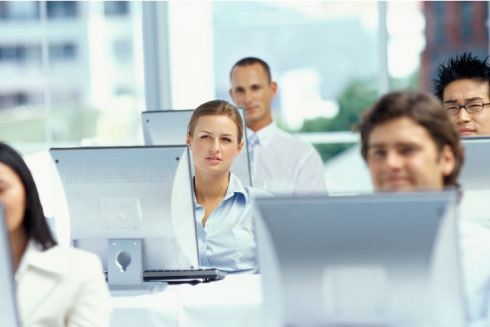 Human Resource Management Model
Attracting, developing and retaining talent is the key to Abengoa's success. The company therefore utilizes its management model to nourish the qualities and talents of its employees so that their contributions meet company needs.
Abengoa is aware of the importance of employee motivation and for them to take part in company activities, feel that they belong to a common project and make the most of the range of opportunities. All of these are elements of professional motivation fostered by the company in pursuit of personal and professional development.
The company is firmly committed to improving business processes, working conditions, improving environmental conditions and solving problems. To this end, it implements a wide range of programs and improvement initiatives; IT mechanisms are developed: Troubleshooting Reports and Improvement Actions, etc.; permanent suggestion boxes are made available through the employee portal; work climate surveys are conducted in order to gauge satisfaction levels; and labor issues are identified where corrective or improvement action is required.
Abengoa believes that commitment, initiative and proactiveness are key aspects in employee relationships. Abengoa therefore understands that the company must guarantee the elements required for development, although once the resources and conditions are in place, employees must assume responsibility and commitment and respond accordingly, not only through mere participation, but also through excellent performance, which thus becomes the backbone of the system.
In turn, information and communication are essential parts of the relationship between Abengoa and its employees. Commitment and trust must necessarily involve the company informing its stakeholders and allowing them to participate in the process. Abengoa therefore ensures that all of its communication channels enable and facilitate fluid two-way communication.
Communication is paramount to the company's culture, and Abengoa understands that sharing information is an enriching experience, by bringing people together and generating opportunities.
Tools for Personnel Development
Company growth is based on the development of the people who make up the organization, and fulfilling strategies stems from the performance of personnel teams. Thus, the key to success lies in the quality of the company's employees and in their managers.
Abengoa therefore has an executive development program and a specific system for assessing their performance based on the 360º approach. In 2009, over 700 company professionals were signed up to the program.
On a monthly basis, the strategy committee meetings of each of the business groups analyze director profiles and those of potential company directors, assess the professional development and training plans in place, and define career opportunities, new duties, destinations and missions.
Abengoa also has a competency-based management model in place throughout all of its companies. This model facilitates integration of personnel with the strategic objectives, annual performance assessment and development. In 2009, 72% of employees were attached to a performance assessment program.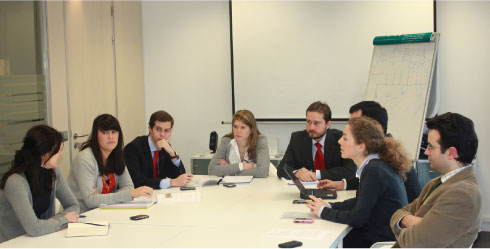 Photo taken by Mª Victoria Sánchez Jiménez from Abengoa
Personal and Professional Life Balance
Abengoa has rolled out a host of initiatives to make the working environment more human and pleasant, enhance quality of life at work and promote a balance between work and home life.
The following stand out among these initiatives:
Mobility and telecommuting: Abengoa realizes that in today's environment, employee mobility is key to achieving strategic objectives, and therefore the company has increased accessibility to online corporate applications, subject to the highest levels of security in order to protect the information, thereby attaining a significant increase in process efficiency.
These tools are backed by a solid user support and computer assistance service capable of effectively and efficiently addressing user needs. This service, available in various languages 24 hours a day, 365 days a year, can be accessed by employees via computer application, telephone or mobile devices.
Promotion of physical activity and sports: to contribute to employees' quality of life, Abengoa has installed gyms at its major work centers. These are equipped with everything needed for physical exercise and are set up for different activities, including dance, step aerobics, Pilates, etc.
Day care centers: marking yet another step towards achieving a personal and professional life balance, the day care service is subsidized for children up to the age of 3 and available at the Valgrande offices in Madrid, and at the Palmas Altas Campus in Seville. The latter has been operating since October 2009 and has a capacity for up to 90 children.
In addition, the Day Care Plan has been implemented, by means of which employees who are parents of children aged under 3 may deduct the amount of day care vouchers used for this purpose from their gross salary, with this amount being exempt from personal income tax. More than 100 employees took advantage of this initiative in 2009.
Within the new social model defined for the Palmas Altas Campus, a food court has been set up at the center, featuring three restaurants that offer a variety of healthy food choices with different menus and styles in order to meet the needs and tastes of all employees. In addition, a website has been implemented so that users can consult the daily menus of each establishment.
Work schedule flexibility: in its working calendar, Abengoa has established different alternatives for starting times, lunch-time and ending times, allowing employees to select the schedule that best suits their personal and family life.
Employee social assistance: Abengoa's has set up a social action department, aimed at building relationships with a human side, in which employees can receive advice, support and orientation and raise doubts or follow up on specific family, medical, social or economic problems. The Focus-Abengoa Foundation, through GIRH, has social funds available to provide economic aid in situations of need.
Medical Services: to reinforce employee medical coverage, medical service is provided at all work centers with more than 300 employees. In addition, the company's major worksites have their own facilities, staffed by specialized personnel and equipped with the latest in modern technology.
In addition to regular health center opening hours and the appointment service for medical examinations in accordance with the specific health monitoring programs, all Abengoa worksites have an emergency service available throughout the working day.
Employee benefits are enjoyed by all employees irrespective of the nature of their contractual relationship.
Management procedures require that all Abengoa employees have life and disability insurance coverage, and the companies in each country are responsible for taking out these policies for all employees.
Employee Satisfaction
Work climate surveys
Every two years, Abengoa prepares working climate surveys in order to gain insight into employee perception of the company and its management of employees. The last survey was conducted in 2008 and the results obtained have led to the implementation of a range of initiatives with the sole aim of improving aspects receiving poorer employee evaluation and enhancing those that are most positive.
Here the following are worthy of mention:
Enhancing internal and external communication through the new Connect@ portal, the websites of Abengoa and its business groups and other communication channels, thus improving options for participation from employees and other stakeholders.
Increase in the number of training schemes geared towards improving executive skills.
Reinforcement of online training through C@mpus Abengoa. In 2009, online training received a substantial boost in both relative and absolute terms with respect to 2008: an increase of 56%, which represents 12% in the training plan.
Promotion of volunteer programs in order to encourage employees to donate their time and share their skills to benefit the community through social and environmental projects.
Certification of the latest version of the CSR SA 8000 standard.
Acknowledgment as the "Best Company to Work for"
For the third consecutive year, Abengoa participated in the Corporate Reputation Business Monitor (MERCO in its Spanish acronym), which started life in 1999 at the Complutense University of Madrid.
Since then, Abengoa went from being ranked 96th, in 2007, to occupying the 34th position in 2009, while also representing one of the 10 most highly valued companies by human resource directors.
This acknowledgment underpins the value of Abengoa's management model, including a range of initiatives for attracting, developing and retaining talent, which has made the company one of the most attractive for professionals.
Case Study
Palmas Altas Campus Social Model
Located in Seville, Abengoa's new headquarters, Palma Altas Campus, symbolizes Abengoa's pledge to creating a sustainable business environment, fostering technological innovation and research, attracting talent and enabling employees to strike a balance between a high level of productivity and an advanced social model.
The different areas, the environment, element layout, orientation, energy and architectural concepts; everything is designed to achieve the desired goal: a sustainable complex that is highly responsible, both technologically and socially.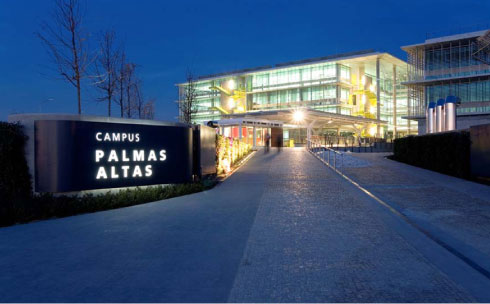 CPA Photo taken by Victor Sájara
Palmas Altas Campus, inaugurated in 2009, provides the perfect backdrop for the social model Abengoa pursues for its employees; a model which gives priority to a richer balance in personal and professional life; a place for addressing all employee needs.
The Campus offers Abengoa employees an ample food court spanning 1,600 m², divided into three restaurants that offer different kinds of varied and balanced food; day care services for employees' children aged between 0 and 3; medical service with specialized healthcare professionals and an innovative system of telemedicine for online consultation with specialists, who are able to diagnose the problem and optimize treatments in real time; two sports facilities for a range of different sporting activities; recreation room with computers, television, newspapers and magazines; a mini-market; and generously sized green areas in which to stroll.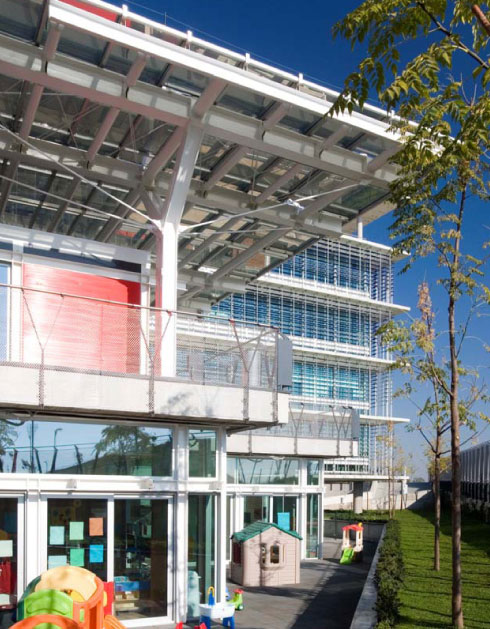 CPA Photo taken by Victor Sájara
It is important for Abengoa that the benefits of Palmas Altas Campus have a positive effect on all of the company's employees, customers, suppliers, shareholders, investors, etc., thereby making the Campus a place of encounter for all of the group's companies.
Furthermore, the Campus is the first European building to obtain the highest level of sustainability pre-certification (LEED Platinum), awarded by the Green Building Council, a non-profit organization dedicated to promoting sustainable construction.
2009 Milestones
Inauguration of the new Palmas Altas Campus headquarters.
Implementation of day care service at the Palmas Altas Campus.
Certification of the latest version of the SA 8000 standard (GIRH).
Ranked among the Top Ten in the MERCO study on Human Resource managament.