Abengoa's Engineering and Construction Division remains upbeat about its future growth, seeing as though the company's results have witnessed constant growth year after year and consistently outstrip the company's own expectations. It is continuing with its recent drive towards international expansion and growth, while cementing its leadership in those markets where it operates.
Ranked in 2011 as one of the world's leading construction firms in energy infrastructures according to the ENR (Engineering New Record) ranking, Abengoa is the world's largest international construction firm in power transmission and distribution, the largest for electrical infrastructures, and also the fourth largest contractor in Latin America. Moreover, it is already the sixth largest constructor of desalination plants according to the IDA Desalination Yearbook.
The talent and dedication displayed by the division's human team is one of the driving forces behind the company's success in executing its projects. Highlight projects for 2011 include:
Ongoing construction of the Solana plant, which is set to become the world's largest solar power plant with 280 MW of installed capacity. The facility is located in Arizona and utilizes parabolic trough technology with thermal storage from molten salts, thus enabling the plant to increase the number of hours over which it can operate in daytime and also at night.
Ongoing construction of the 100 MW Shams 1 CSP plant, the largest of its kind in the Middle East and located in the desert surrounding Abu Dhabi. Spanning 300 ha, the facility will curb annual CO2 emissions by 175,000 t thanks to its nearly 600,000 m2 of parabolic troughs.
Work continuing on the El Carpio Solar Complex in Andalusia, the Castilla-La Mancha Solar Complex and the Extremadura Solar Complex. Each complex features two 50 MW power plants employing parabolic-trough technology.
Completion and unveiling of the 150 MW hybrid solar-gas power plant in Hassi R'Mel (Algeria), one of the world's largest hybrid power plants. This groundbreaking facility is already exporting power to the national Algerian grid. With construction now completed, Abengoa has been tasked with the operation and maintenance of the plant for the coming 25 years.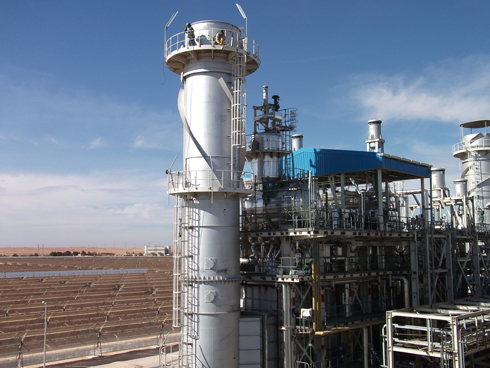 150 MW Hassi R'Mel hybrid ISCC plant in Algeria
Another major milestone was the completion and commercial start-up of the 220 kV Carhuamayo-Cajamarca power line and associated substations in Peru. The project includes 670 km of line, two new substations and upgrades to five existing substations.
Ongoing construction on the 600 kV direct current Porto Velho-Araraquara power line in Brazil. This is a truly groundbreaking milestone in that it is one of the world's longest direct current transmission lines at 2,350 km. Work is also continuing on the 230 kV Jauru-Porto Velho alternating current line as part of the Pre-Madeira project, which spans 987 km in total. Over the last ten years, Abengoa has constructed over 2,000 km of HV power lines and 21 substations. Abengoa currently has 4,000 km of lines (2,400 km being 600 kV direct current) and 16 substations under construction for concessionaire companies in which it holds a controlling stake.
Start-up of the 500 kV EHV (extra high-voltage) power line in Argentina between the Agua del Cajón transformer substation and the Rio Diamante transformer substation, spanning a grand total of 518.6 km.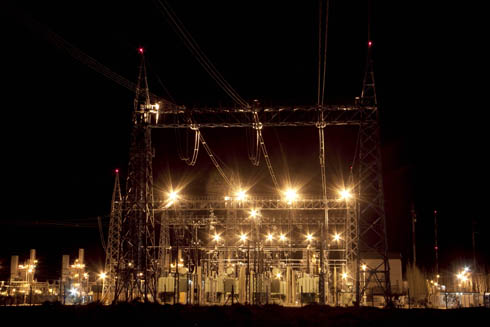 Agua del Cajón transformer substation in Argentina.
The satisfaction of our customers following successful completion of their projects has enabled Abengoa to secure and start up various new contracts, of which we would highlight:
Construction underway on the Mojave facility, a new 250 MW CSP plant sited in the Mojave Desert and utilizing parabolic-trough technology. The facility is set to become one of the world's largest solar power plants.
Work has also started on the world's first second-generation bioethanol plant intended for commercial use. The facility, which will run on cereal straw instead of grain, will produce 26 Mgal of bioethanol a year and 20 MW of electricity in the United States.
In Peru, Abengoa has started work on the 500 kV Chilca – Marcona – Ocoña – Montalvo power line and associated substations, which includes the installation of two series compensation capacitors at the Ocoña substation. The 800 MW line is 872 km in length and has 1,200 MVA of transformation capacity.
Abengoa has been awarded a 25-year contract to supply drinking water, with the project including the engineering and construction, and also operation, management and maintenance of the El Zapotillo-Los Altos de Jalisco-León aqueduct in Guanajuato, Mexico.
Contract awarded for a water supply system in the city of Dogubayazit, Turkey, further consolidating Abengoa's presence in the country.
Contract awarded towards the end of the year for two solar power plants in South Africa: a 100 MW plant employing parabolic-trough technology and a 50 MW plant featuring power tower technology, one of the largest of its kind worldwide.
Contract awarded to the Spanish-Saudi consortium Al Shoula Group (which includes Abengoa) to construct a high-speed railway line connecting the cities of Medina, Jeddah and Mecca in Saudi Arabia.
A further highlight for 2011 was Abengoa's new inroads in the wind energy sector, marking another bold step forward towards its objectives in this area. The company has been entrusted with the design, construction, operation and maintenance of a wind farm in Cuchilla de Peralta, Tacuarembó (Uruguay), with 50 MW of installed capacity. It has also secured contracts from Aneel (Brazilian Electrical Energy Agency) for three wind farms with a combined capacity of 64 MW, namely Santo Antonio Pádua, Sao Jorge and Sao Cristovâo, all located in the municipality of Trairí in Ceará state (Brazil).