2010 in Review
Abeinsa remains upbeat about its future growth, for year after year the company's results have witnessed constant growth and consistently outstrip the company's own expectations. The company is pressing on with its recent drive towards international expansion and growth, while cementing its leadership in the markets where it operates.
This progress would not have been possible without the hard work, talent and dedication of its human team comprising over 11,000 workers, who constitute one of the cornerstones behind the success of its projects.
Ranked in 2010 as one of the world's leading construction firms in energy infrastructures according to the ENR ranking (Engineering New Record), Abeinsa is the largest international construction firm in power transmission and distribution, the world's third largest construction firm for electrical infrastructures and the fourth largest contractor in Latin America.
The main milestones reached in 2010 were as follows:
Contract awarded to construct the 500 kV Chilca-Marcona-Ocoña-Montalvo transmission line and three new substations in Peru, and to upgrade a further three, including the installation of two series compensation capacitors at the Ocoña substation. The 872 km project encompasses the design, supply, construction and financing of the entire electricity system, and operation and maintenance for a 30-year term.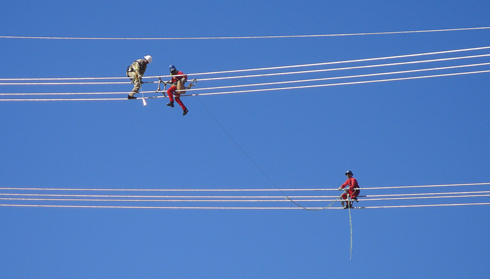 Abengoa Brasil employees carrying out O&M work on a power transmission line
Work completed on the Solnova 1, Solnova 3 and Solnova 4 solar thermal power plants, each with an installed capacity of 50 MW and all now operating successfully at full output. It is estimated that each facility will produce 90 GWh of electricity, enough to power approximately 25,000 households.
EPC (engineering, procurement and construction) contract awarded and start of construction on what will be the largest solar thermal power plant in the Arab Emirates, namely the 100 MW Shams-1 plant. The contract was secured through an international tender held by Masdar, while the developer is Shams One Company, comprising Masdar, Total and Abengoa Solar. Thanks to just shy of 600,000 m² of parabolic troughs, the plant will generate enough electricity to supply 62,000 households.
Contract awarded and start of construction on the EPC Solana project in the Mojave Desert (USA), the world's largest solar power plant to date with 280 MW of gross power. The facility utilizes parabolic trough technology with thermal storage achieved through molten salts to extend the hours over which the plant can operate during the day.
Work continued on three solar thermal power plants and construction got underway on five other facilities in Spain, specifically in the municipalities of Ecija and El Carpio in Andalusia, Logrosan in Extremadura and Ciudad Real, all with an installed capacity of 50 MW and featuring parabolic trough technology.
Completion and delivery to the client of the Integrated Solar Combined Cycle (ISCC) solar thermal power plant in Ain Beni Mathar (Morocco), the world's largest ISCC plant. The facility will produce 482 MW of total power, with the solar field contributing 24 MWe, as well as specific consumption associated with the generation of thermal power by the solar field.
Completion and delivery to the client of three bioethanol plants, two in North America and the other in the Netherlands, with a combined capacity over 300 Mgal/year (1,160 ML/year).
Start of construction on the 300 MW cogeneration plant in Tabasco (Mexico) for the state-owned company Petróleos Mexicanos (Pemex). The project includes operation and maintenance for a 20-year term. The new facility will be able to generate up to 800 t/h of steam to supply electricity to the Nuevo Pemex Gas Processing Complex in Tabasco, and will export surplus power to the Mexican national power grid.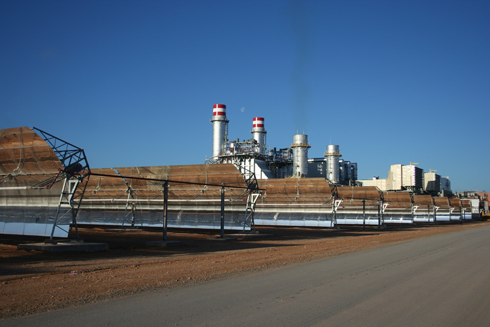 The world's largest ISCC plant in Morocco, delivered in 2010
Completion of construction work on the 200 kV high-voltage Carhuamayo-Carhuaquero power line and associated substations in Peru. The project includes 670 km of line, two new substations and five upgrades to existing substations.
Start of construction on the 600 kV direct current Porto Velho-Araraquara power line in Brazil. This is a truly groundbreaking milestone in that it is one of the world's longest direct current transmission lines at 2,350 km.
Abener awarded the "X Premio Andaluz a la Excelencia" award for excellence in the "Management Systems" category, a competition staged by the Regional Government for Economy, Innovation and Science with the collaboration of the Centro Andaluz para la Excelencia en la Gestión (Andalusian Center for Management Excellence).
Abener Teyma awarded the CSP Today award for best EPC contractor of the year.
Abengoa Perú awarded the National Prize for Quality by the Sociedad Nacional de Industrias, making it the first construction firm to receive the accolade.
Huawei named Instalaciones Inabensa its Outstanding Technologies Partner in recognition of its development, capacity and technological cooperation, and presented it with the European Partner Award, confirming Inabensa's position as one of Huawei's leading collaborators in Europe.
Inabensa Tianjin presented with Best Electric's Best New Supplier of the Year award.
Abeinsa's strategy of geographic and business diversification over recent years was reflected in the setting up of new subsidiaries and the acquisition of new companies in 2010:
Agreement signed with Befesa to take over the engineering and construction business line for water and environmental projects. Following completion of the deal, which took place on January 1, 2011, Befesa is now responsible for promoting, developing and operating desalination and reuse plants and for handling the associated R&D&I, while Abeinsa is now charged with EPC performance and the remaining business activities. The transaction has enabled Abeinsa to broaden its range of products and services by penetrating a sector offering huge growth potential. It similarly cements its position in the market by incorporating an additional activity that other enterprises with a similar profile are already developing. The new activity will be carried out through Abeima (Abeinsa Infraestructuras Medio Ambiente SL), a truly international company employing close to 400 workers on four different continents.
Acquisition of Abacus Project Management, a North American project management company operating out of Arizona and California, with excellent human capital and operational capacity focusing primarily on the western coast of the United States.
Abratey, a company incorporated by Abengoa Brasil and Teyma and specializing in civil engineering in Brazil.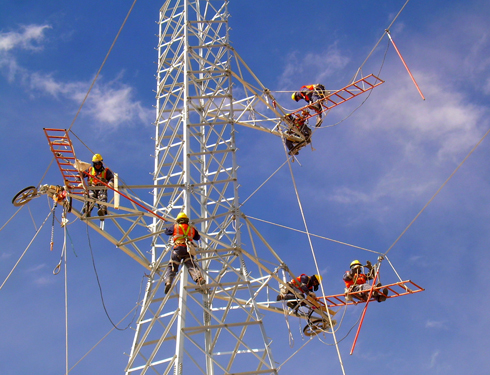 Workers constructing a power transmission tower in Chile
Agreement for Abengoa Brasil to acquire a 50.1 % stake in Damp Electric, a supplier of key products for the business value chain, such as metallic structures, the building blocks with which to construct power transmission towers.
Incorporation of the companies Norventus Atlántico SL and Arao Eólica SL, both with head offices in A Coruña and engaged in the promotion, design, construction and operation of electricity-generating wind farms and facilities, and also the sale and marketing of electrical power.
Opening of Inabensa's commercial office in Doha, Qatar.