Key Milestones in Innovation Management at Abengoa in 2010
At Abengoa, most research and development investment goes towards applied research and the development of technological innovation towards the achievement of strategic sustainability goals and new products.
In recent years, Abengoa has sought to create an environment in which research, development and innovation all move forward in harmony. In 2010, the Stage-Gate-based application first introduced in 2009 became a fully fledged system to manage research and development projects within an overarching framework of excellence, in alignment with Abengoa's strategic objectives.
The Stage-Gate methodology specifies key actions to be taken in preparing and implementing a research and development project within Abengoa business units' project portfolio. This ensures a standard approach to research and development projects using a common methodology to define processes and maximize the value contributed by research and development projects to Abengoa's businesses, while minimizing the risks.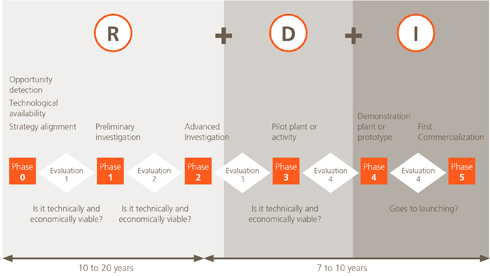 Stages of an integral R&D&I project
R&D Valuation
In 2010, research and development management has taken a further step by implementing a project to evaluate research and development efforts in both qualitative and quantitative terms, in parallel with the introduction of an application for managing Abengoa's research and development portfolio of research and development programs. The research and development assessment methodology tracks research and development investment from its source to its final implementation in a commercial process; this approach measures the improvements contributed by research in terms of profitability and efficiency to Abengoa's processes in the field of technological innovation. Evaluating research and development is a vital step in setting priorities within the process of innovation decision-making in accordance with corporate strategy.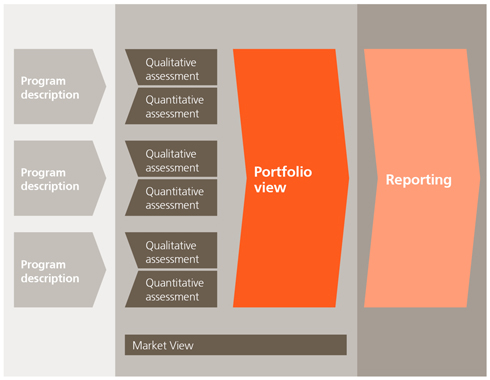 R&D valuation methodology
The implementation of a common evaluation methodology underpins the whole of Abengoa's research and development strategy so as to enable a global overview of how the various programs are progressing.