Our Business

In 2010, Telvent continued to achieve powerful growth despite financial turmoil, worldwide budgetary austerity, and the energy crisis and its fallout — particularly in the environmental arena. The company significantly improved its operating earnings, profitability and efficiency, and even consolidated strategic targets in markets with a direct impact on the planet's economy and sustainability, such as energy, transportation, the environment and agriculture.
Playing a central role in a host of external and internal initiatives and events, Telvent reinforced its position in all fields. Over the year, the company became more solidly focused on sustained growth.
Telvent renewed its efforts to remain a cutting-edge supplier of advanced solutions, implementing best practices in all of its fields of action. Its overarching goal of excellent performance guides its day-to-day work and relationships with all of its stakeholders: shareholders, potential investors, analysts, customers, suppliers, its people — who make each project possible — and the communities in which it operates. All of these fall within the company's strategic framework, shaped by its mission, vision and values.
Its mission is to provide efficient and secure management services, based on its innovative technology and proven expertise — helping to manage operational and business processes for leading companies worldwide.
A global company, Telvent employs the most talented professionals in the countries in which it operates. Through the use of state-of-the-art information technologies, these individuals help it to overcome the formidable challenge of creating a sustainable and secure world for future generations.
Telvent is fully committed to integrity and ethical conduct, and will attain its mission on the basis of the following core values:
Showing honesty and respect in dealings with customers, shareholders, collaborators, technological partners and suppliers.
Demonstrating flexibility and the capacity to assume risks, enabling it not only to maintain, but also to strengthen its leadership position in the industrial sectors in which it operates.
Supporting innovation, hard work, and collaboration among its highly-qualified professionals.
Predicting and utilizing future industrial and technological trends for long-term business success.
It is the only Spanish company listed on the United States technology stock exchange, NASDAQ (ticker symbol TLVT). In 2008, Telvent was selected to be a part of the NASDAQ Global Select Market, an index of international companies that meet stringent financial, corporate governance and Cleantech™ (CTIUS) requirements. This is the first and only index reflecting the present demand for technology goods and services that support the sustainability of the planet.
Telvent has offices and facilities in more than 20 countries around the world. Its nearly 6,000 high-caliber professionals undertake projects and initiatives specific to each business area. In addition to its headquarters in Madrid (Spain) and Rockville, Maryland (United States), Telvent has offices in the following locations:
Europe: Spain, Portugal, Netherlands and Sweden.
North America: United States and Canada.
Latin America: Mexico, Brazil, Venezuela, Peru, Chile, Uruguay, Panama and Argentina.
Asia-Pacific: China, Thailand and Australia.
Middle East-Africa: United Arab Emirates, Turkey and Saudi Arabia.
The company's growth is rooted in its strategy, which is based on: business and territory diversification; an unwavering commitment to continuous innovation in support of proprietary technology; and in-depth knowledge of the market, with an extensive, loyal customer base that provides a solid foundation.
Telvent's approach is to build stable, long-term relationships with those it provides services and products. Every year, more than 85% of its sales come from existing customers, and 30 % from recurring agreements. These figures can largely be attributed to its quality policy around one key principle: customer satisfaction.
Through a close and constant watch on all its ongoing projects, Telvent is focused on gradually improving its technologies and services to meet the evolving expectations its customers. The company's transparency and communications efforts enable it to nurture enduring confidence among investors, suppliers and customers year to year. An example of its business philosophy is its policy of holding "open door" days for shareholders and analysts. More than twenty such events were hosted in 2010. Moreover, its annual customer satisfaction survey is a direct review of the company's perceived performance in various endeavors.
Throughout 2010, Telvent voluntarily offered all stakeholders clear, regular and accurate information on all its activities, policies and results. Anyone, from a qualified investor to a member of the public anywhere in the world, can find detailed information on the company, make inquiries, or communicate with Telvent via its web.
Telvent's success can be attributed to two factors: first, its key competitive edge from its proprietary technology; second, the hard work and dedication of its team of nearly 6,000 employees. In 2010, the company implemented its Technological Talent Program, designed to expand and reinforce in-house technological know-how. The program is set to play a key role in talent and leadership development within the organization.
The company recruits the highest-caliber engineers and technical specialists, offering them a work setting designed to foster productivity, draw out creative insight, encourage high performance, and provide systematic ongoing training via progressive development of new skills and competencies. The company's Equality Master Plan is designed to offer all of its employees equal opportunities for career development and compensation. In 2010, hours spent in training exceeded 203,000 — encompassing a wide range of different subjects, including new techniques, professional refresher courses, management models, administration and finance, the environment, quality, operations and logistics, office systems, languages, and risk prevention, among others.
Its human resource policies are focused on creating the right conditions for talent to thrive, and for each employee to achieve excellence in his or her specific role. This team brings together the finest professionals from around the world, who are guided and characterized by the company's values of hard work, high motivation, independence, and commitment to the organization.
Looking ahead to 2011, Telvent continues to focus on the core principles of excellence and innovation as the cornerstones of its business, always in the interest of a more secure, sustainable world. It will remain committed to the following objectives:
Providing solutions and services that help curb CO2 emissions.
Improving the mobility of people in relation to their daily travel needs.
Developing technological solutions to ensure the efficient management of electrical energy, oil and gas.
Offering a high value-added technological response geared towards protecting the environment worldwide.
Providing a global technology outsourcing model that covers the complete life cycle of customers' information and communication technologies — thereby guaranteeing user security.
Streamlining the exchange of proprietary information in real time, which is of high added value to farmers and other critical sectors of the current social and economic model.
This year, Telvent will continue to strive towards maximizing the efficiency information technologies can bring to critical industries, and therefore, leave a better environmental legacy to future generations.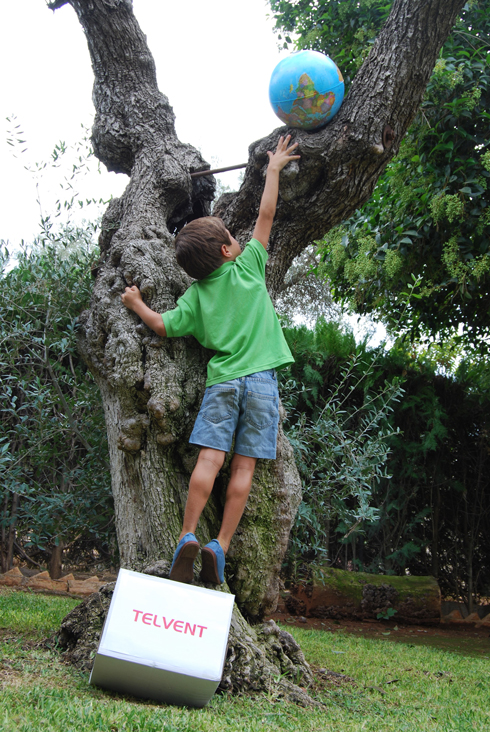 Telvent firmly believes in the value of information technologies to make the world a better legacy for future generations