The world is facing a major challenge in terms of water, which is materializing on two fronts:
ƒƒWater shortage, which is reaching alarming levels and is exacerbated further by a lack of water treatment facilities.
Industry consumes huge volumes of water and depends heavily on this resource to function smoothly, meaning water management is now critical for its ongoing survival.
The global economic crisis facing us now is making the situation even more complicated. The world needs major investments to upgrade existing facilities and develop new water infrastructures to help correct or mitigate existing water shortage and contamination problems. However, countries and governments lack the financial resources needed to tackle this problem effectively and in many cases we cannot wait any longer. This opens up a huge market opportunity for the private sector wishing to invest in water, as public-private partnerships can be used to construct the required water infrastructures with private capital, which are then operated under a concession agreement.
Abengoa is engaged in the promotion, development and operation of water treatment plants and seeks to consolidate its international leadership in the desalination plant business by managing company-owned assets and expanding water treatment and reuse business and industrial outsourcing.
Abengoa focuses primarily on the international stage and is present on four continents. 30 % of its employees can be found at its offices in Seville and Madrid, while 70 % work at company offices in the United States (Harlingen and Austin, Texas), China (Beijing and Dalian), the United Arab Emirates (Abu Dhabi) and at the offices of concessionaire companies and projects in Skikda, Tenes and Honaine (Algeria), Chennai (India), Qingdao (China) and Accra (Ghana).
Looking ahead to the future, Abengoa intends to center on concession-based wastewater treatment and regeneration plants for reuse, a market offering tremendous potential as water reuse will become an integral part of the solution to the water quantity and quality problems facing the planet.
The industrial water sector is another key future market, in which Abengoa strategy is to rely on a services-oriented business model, enabling industrial plants and factories to outsource their water operations (industrial outsourcing).
R&D investment in water treatment technologies is a key aspect of Abengoa's strategy. Over the course of 2012, Abengoa invested €5 M into a total of 30 different R&D+i projects so as not to lose grip of its technological leadership in desalination plants and to open up new business opportunities.
Abengoa business in the water desalination market is articulated through four divisions:
ƒƒWater treatment plants under concession: development and management of seawater and brackish water assets under concession.
Operation and maintenance of desalination and wastewater plants.
ƒƒWater treatment solutions: design engineering, specification and EPC monitoring in desalination projects.
Developing new technologies through the company's R&D department.
Algeria
Skikda: the Skikda desalination plant, with a capacity of 100,000 m³/day and in operation and maintenance since 2009, produced 100 million cubic meters of desalinated water in 2012.
Honaine: following provisional acceptance, the plant was brought on-line on July 12 and has continued production since then. The facility boasts a capacity of 200,000 m³/day and is currently Abengoa's largest desalination plant in operation.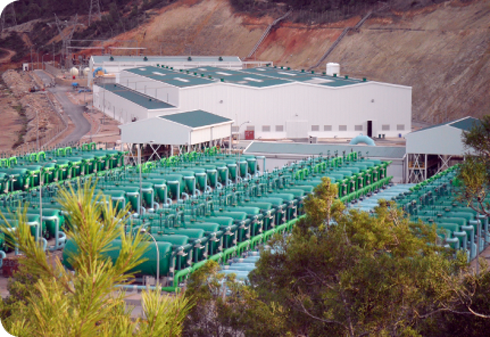 Ténès. Abengoa has resumed construction of the Tenes desalination plant after various months of stoppage for reasons beyond the company's control. The plant will have a capacity of 200,000 m³/day.Operation and maintenance of the facility is scheduled for summer 2014.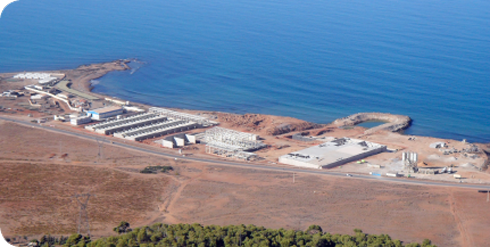 India
The Chennai desalination plant, with a capacity of 100,000 m³/day, has been producing water since 2010 and is the first plant to have been developed in India under a project finance framework.
Spain
Production at the desalination plants in Almeria and Cartagena, with a capacity of 50,000 m³/day and 65,000 m³/day, respectively, is continuing to meet our expectations. The operation and maintenance period is 25 years for the former and 15 for the latter.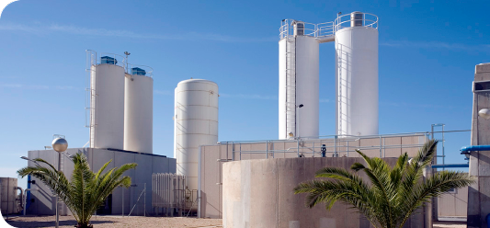 Ghana
In November 2012, Abengoa started construction of the Nungua desalination plant in Ghana. The desalination plant will require an investment of $125 M and will have a desalination capacity of 60,000 m³/day. Work is expected to last approximately 24 months, during which time roughly 400 direct and indirect jobs will be created.
China
In March, we were invited to take part in the official ceremony organized by the Dalian local authorities to celebrate the laying of the cornerstone of what is set to become one of China's largest industrial hubs, to be constructed at the new petrochemical park on Xizhong island. Abengoa, signed a collaboration agreement to construct water treatment plants to supply local industry.
In May, Abengoa signed a memorandum of understanding (MoU) in Madrid with the Qingdao authorities, to sign a bilateral agreement to collaborate on wastewater regeneration and reuse projects.
United States
In the United States, Abengoa has been awarded the feasibility and preliminary engineering study for a drinking water nanofiltration plant.
Abengoa Water has also signed an agreement to develop solutions for the treatment and reuse of water used in the shale gas extraction process.
Abengoa also gave an address before the Natural Resources Committee of the Texas House of Representatives, highlighting its leadership in the Texas desalination market.