Society is facing major challenges such as natural resource scarcity, rising energy demand and climate change. By 2050, world population is estimated to reach 9.6 billion people 1, which will entail, among other things, unfair competition in gaining access to limited resources, including water and fossil fuels, as well as a significant rise in the amount of waste generated.
The current change in paradigm is therefore compelling companies to adapt their business model towards a more sustainable model to ensure lower consumption of resources and efficient resource management by applying new technologies that do not compromise our future generations.
Abengoa applies innovative technological solutions for sustainability in the energy and environment sectors, bringing value to its stakeholders through a management system based on advancing enterprise, social responsibility, transparency and rigor.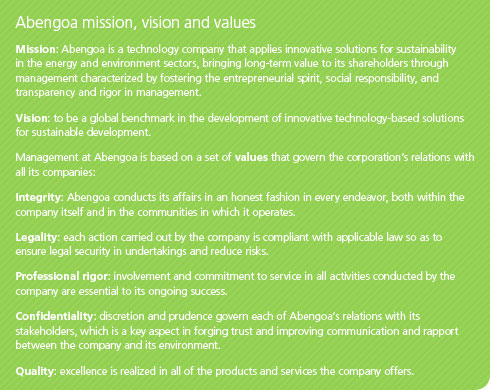 Note 1: UN Study: World Population Prospects: The 2012 Revision