Consolidated statement of financial position
A summary of Abengoa's consolidated balance sheet for 2011 and 2010 is given below, with the main variations: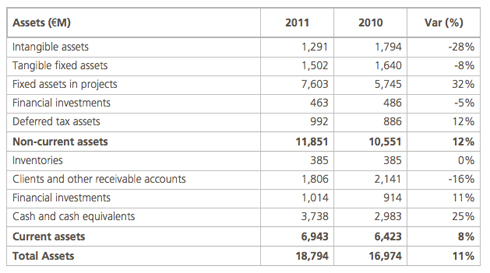 Non-current assets increased by 12% to €11,851 M primarily due to the increase in the fixed assets in projects for the solar business (solar plants in Spain and Algeria), bioenergy (plants in Rotterdam, Indiana and Illinois), electricity transmission line concessions in Brazil and Peru, and desalination plants in Algeria, India and China.
Current assets increased by 8% to €6,943 M, since despite the decrease in the "Clients" heading primarily due to the sale of Telvent, the cash position has increased, mainly as a result of the same divestment, the sale of transmission lines in Brazil and the capital increase carried out in 2011.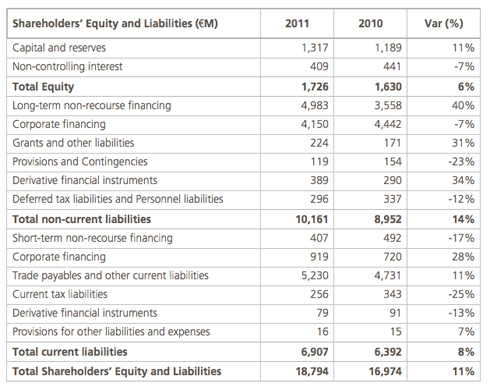 Shareholders' equity increased by 6% to €1,726 M, primarily due to the €300 M capital increase subscribed by First Reserve and to the positive results for the year, which offset the decline in the valuation of the interest rate hedges and the translation differences caused by the depreciation of the Brazilian Real against the Euro, by the sale of the 50% shares held in various Electricity Transmission Lines companies in Brazil and by the deregistration of Telvent GIT, S.A. from the consolidation after the sale of its shares.
Non-current liabilities increased by 14% to €10,161 M, mainly due to the increase in long term non-recourse financing, which rose from €3,558 M in 2010 to €4,983 M in 2011, partly offset by the decline in borrowing after the divestment of Telvent and the reclassification of part of Abengoa's syndicated financing expiring in 2012 as short term.
Current liabilities increased by 8% to €6,907 M, driven mainly by the reclassification of the aforementioned syndicated financing as short term, and the increase in suppliers and other accounts payable related to various engineering projects.

Net debt composition