3.1. Recent trends
3.1.1. Movements in the main items on the Balance Sheet and the Income Statement are set out as follows:

3.1.2.
Balance sheet; of note is an increase in "Project Fixed Assets" which rose up to €7,602 M in 2011, primarily being intangible assets, reflecting investments made in certain concessions in Brazil, and investments in water management projects, environmental projects and plants and production installations for Bioethanol and Solar by the various project development companies owned by the various subsidiaries Abengoa, S.A.
The investments made by these development companies are executed and financed, in general, through "project finance", being a specific financing formula under which funds are raised exclusively to finance that entity and the project with debt repayments being made directly from the future cash flows generated by that same project. Such financing is in this reing-fenced, and is therefore without recourse to the shareholders.
The opposite entry to these investments is recognized as a liability within the Balance Sheet, as "Non-recourse financing applied to projects", which, at the closing of 2011, amounts to €4,983 M in non-current liabilities and to €407 M in the corresponding short-term heading.
The net equity increased 6% reaching €1,726 M, primarily due to the sale of a stake in Abengoa to First Reserve and to the better results for the year, which offset the decline in the valuation of the interest rate hedges and the translation differences caused by the depreciation of the Brazilian Real and the sale of transmission lines in Brazil.
The Net Debt of Abengoa in 2011 reached €120 M (net position of debt) as against the €1,166 M (net position of corporative debt) for the 2010 exercise.
The change in the size and structure of the Abengoa balance sheet over the last five years reflects certain events, the impact of which is most notable on the following Balance Sheet movements:
a) Obtaining a new syndicate loan in 2007 for €859 M. This loan was raised to finance Abengoa's entry into the Brazilian ethanol market, as well as to finance our investment plans in solar energy, desalination, and electricity transmission lines.
b) Acquisition in 2007 of 100% of the share capital of the Dedini Agro group of companies (today being Abengoa Bioenergía Sao Paulo), one of the largest companies in the Brazilian sugar and ethanol market.
c) An agreement in 2007 with Matchmind, an international business, for its integration within Telvent. Through this agreement, Telvent initially acquired 58% of Matchmind for €23 M with the management team taking a 40% holding in the entity. The holding in Telvent has been increasing over the last three years until reaching 100% ownership in the 2009 exercise.
d) The acquisition in 2008 of the US entity DTN Holding Company, Inc. (DTN), with its headquarters in Omaha, Nebraska. DTN was purchased for US$ 445 M cash (approximately €310 M), and financed through a combination of preference debt and the emission of shares.
e) During 2008 the contracting of four own projects continued, being four solar thermal plants (PS 20, Solnova 1, Solnova 3 and Solnova 4), and 3 ethanol plants (Rotterdam, Indiana and Illinois).
f) The 2009 fiscal year saw the commissioning of the 20 MW thermosolar plant with PS 20 Tower Technology.
g) Also in 2009, Abengoa gained access to the capitals market by issuing two bonds for the total sum of €500 M.
h) Three new ethanol plants (Rotterdam, Indiana and Illinois) and three new solar-thermal plants (Solnova 1, Solnova 3 and Solnova 4) came into operation in 2010.
i) In addition, approximately €1,200 M of bonds were issued in 2010.
j) Dated September 5, 2011, Abengoa, S.A. closed an agreement with Schneider Electric, S.A. for the sale of 40% of its shares in Telvent GIT, S.A. The sale of said shares brought in cash flow of €391 M and an income of €91 M reflected in the section of "Income Statement of the Fiscal Year Originating from Interrupted Activities Net of Taxes" of the Consolidated Income Statement.

k) Also, on November 30, 2011, Abengoa, S.A. closed an agreement with Compañía Energética Minas Gerais (CEMIG) through Transmissora Aliança de Energía Eléctrica, S.A. (TAESA) for the sale of 50% shares in the companies STE, ATE, ATE II and ATE III, and 100% in NTE. The sale of said shares brought in cash flow of €479 M and an outcome of €45 M reflected in the section "Other Operating Income" in the Consolidated Income Statement (€43 M after tax).
l) On October 4, 2011, Abengoa, S.A. reached an investment agreement with First Reserve Corporation (through a specific affiliate) hereinafter, First Reserve or FRC, a US Investment Fund specialized in Private Capital and Investments within the energy sector, by virtue of which it made a commitment to invest €300 M in Abengoa's stock capital under the terms and conditions set forth in an investment agreement.

3.1.3.
Consolidated sales as of December 31, 2011 totaled €7,089 M, representing an increase of 46% over the last period.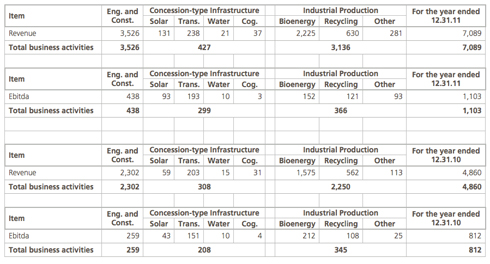 EBITDA (Earnings before interest, tax, depreciation and amortisation) reached €1,103 M to €291 M, a rise of 36% compared to 2010.
This increase in EBITDA was driven by growth in the concessions activity in the infrastructures segment, which grew by 44% primarily due to contribution of the new solar plants in Spain (Solnova 1, Solnova 3 and Solnova 4), which came into operation at different times during 2010, as well as the beginning of operation of Helioenergy 1, a 50 MW Termosolar Plant, during the third quarter of 2011, start-up of the hybrid plant in Algeria during the first half of 2011, contribution from the transmission lines in Brazil (ATE IV-VII), which came online in 2010 as well as the beginning of operation of ATN transmission line in Peru.
Once again it is important to take into account the company's investment in R&D+i which recorded a €91 M impact on the income statement.

The profit attributable to Abengoa's parent company increased by 24% from €207 M achieved in 2010 to €257 M in 2011. If, in both periods, the effects of the capital gains derived from the sale of transmission lines in Brazil, Telvent impact and derivatives mark to market valuation are isolated, the organic results would be increased 75%.
3.1.4.
In the 2011 fiscal year, Abengoa continued increasing its foreign activities in volume and in diversification. From the €7,089 M consolidated invoicing for the 2011 exercise, €5,157 M (73%) is from international or external sales. Activity in Spain amounts to €1,932 M (27%) as against the €1,124 M for 2010 (23%).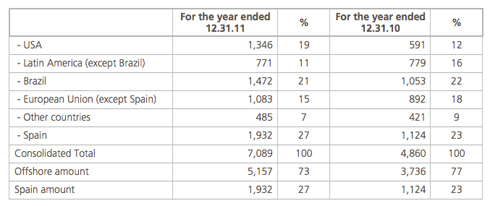 3.1.5.
The following table shows the average number of employees for the various periods: