According to the figures supplied to the company by Bolsas y Mercados Españoles, 669,651,002 shares A and 77,035,291 shares B were traded in 2012, equivalent to an average daily volume of 2,615,002 and 1,674,680 for A and B shares, respectively; and an average traded cash value of €6.7 M and €3.6 M per day, respectively.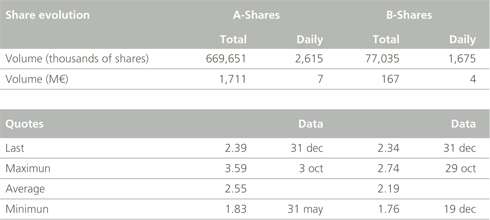 The final listed prices of Abengoa's shares in 2012 was €2.389 (A-shares), which is a 27% decrease on the closing price for the previous year, and €2.340 (B-shares), a 14% decrease from the first initial trading price in October, 2012.
When calculating the level of trading in the two types of shares during 2012, it is important to take into account that the Class B share was only listed in October 2012 and the calculation is only based on trading from this date.
As a historical reference, since Abengoa's Initial Public Offering on November 29, 1996, the company's value has increased by 513% which is more than 6.1 times the initial price. During this same period, the select IBEX-35 has increased by 75%.