Abengoa focuses its business on three activity areas:
Engineering and construction
With over seventy years of experience, this unit embraces the core business of engineering and construction in energy and water. Abengoa specializes in the performance of complex turnkey projects, including concentrating solar thermal plants, hybrid solar-gas plants, conventional power stations and biofuel facilities, hydro infrastructures, desalination plants and power transmission lines.
Infrastructures under concession
Abengoa boasts an impressive portfolio of proprietary assets under concession, all generating income through long-term sale agreements, guaranteed purchase agreements (take or pay) and power purchase agreements. This business line encompasses the operation of electric power plants (solar, cogeneration and wind power), desalination facilities and transmission lines.
Industrial production
Technology-reliant businesses such as biofuels, waste recycling, hydrogen, seapower, energy crops and the development of solar technology, all areas in which Abengoa enjoys a position of leadership throughout the markets in which it operates.
Management structure at Abengoa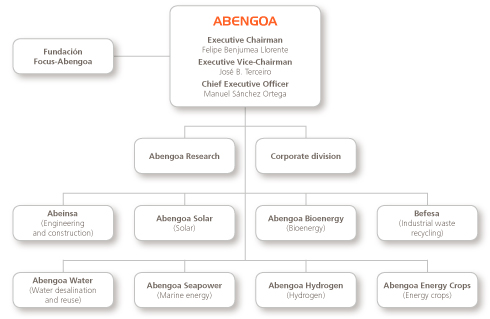 Products and services to attain sustainability
The company's vision dictates that its businesses must be geared towards sustainability development, while also enabling it to reach a position of international leadership in its sector.
Based on these two premises, Abengoa business centers on: solar energy, engineering and construction of energy infrastructures, hydrogen, bioenergy, water infrastructures, metal recycling and waste treatment, wind power, energy crops and marine energy.