Waste recycling
Abengoa undertook various waste recycling projects in 2012, enabling it to cement its position in Turkey and South Korea.
Turkey
The company has invested 120 M$ in two new steel dust recycling plants in Istanbul, which will be designed and operated with secure and sustainable technology. Each facility has sufficient capacity to treat 110,000 t of steel dust and combined can produce over 80,000 t of Waelz oxide. The plants will create roughly 130 direct jobs and more than 200 indirect jobs. [ + info ]
South Korea
Abengoa has acquired a 55 % stake in the South Korean company Hankook R&M, which is engaged in steel waste recycling and is valued at 60 M€. The new resulting plant will be able to recycle 110,000 t/year of steel, raising Abengoa's recycling capacity in 2013 to 750,000 t/year. In addition to the obvious benefits of investing in the local economy of Gyeongju, it is estimated that the project will generate 60 new direct jobs and over 100 indirect jobs in the area. [ + info ]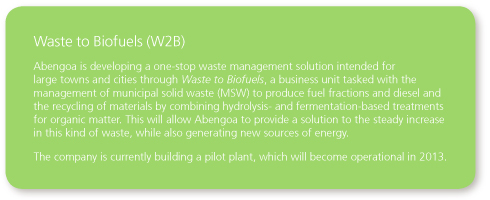 Solar
It is an undisputed fact that electricity consumption is set to continue over the coming years due largely to increasing demand from emerging countries. Fossil fuels offer limited production capacity and must therefore be replaced gradually with renewable sources, the costs of which could prove competitive with those of traditional sources by 2020. In this regard, Abengoa is developing a new generation of concentrating solar thermal plants that promise significant increases in efficiency and possibilities of gas hybridization.
Spain
In 2012, Abengoa started up two pilot plants, CRS Sales and Solugás, at the world's largest solar R&D+i center, located on the Solúcar complex at Sanlúcar la Mayor, Seville (Spain).
CRS Molten Salts
The start-up of this pilot plant will enable us to validate the functioning of solar receivers with molten salts as the heat-bearing fluid, together with the viability and efficiency of generating superheated steam from this fluid via a steam generator.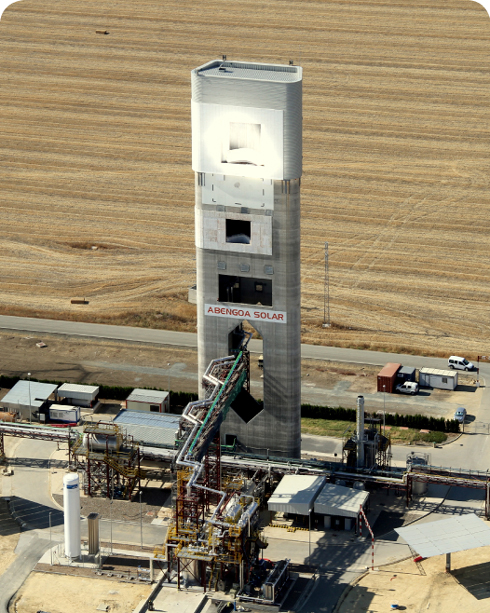 Solugás
In 2012, Abengoa commissioned its pilot power tower plant to demonstrate hybrid solar-gas power technology, which will help boost efficiency and competitiveness.
The project was financed by Framework Programme 7th of the European Commission, with project partners being the German Aerospace Center (DLR to use its German acronym), Turbomach, GEO Technika Cieplna and New Energy Algeria (NEAL).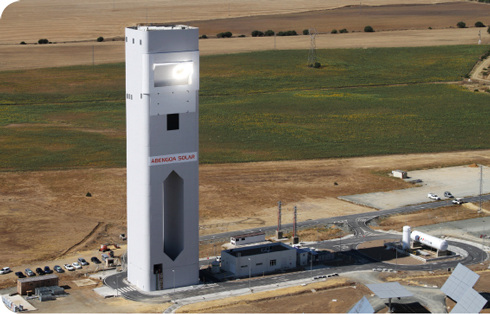 Also in 2012 the El Carpio, Solar Extremadura, and Solar Castilla-La Mancha, complexes came online.
United States
In Arizona, the Solana plant, featuring parabolic trough technology, is currently in the start-up phase, as scheduled, and the facility is expected to enter into operation at some time in 2013.
South Africa
The company has been selected by the South African Department of Energy to construct the country's first two concentrating solar thermal plants, part of the South African government's plan to meet its objective of obtaining up to 17,800 MW of renewable power by 2030 while reducing its reliance on oil and natural gas.