Abengoa has a competency-based management model in place to facilitate annual employee performance and development review. Each year performance assessment is conducted using 360º feedback methodology for key professionals. The number of employees that were evaluated using this methodology in 2012 totaled 977.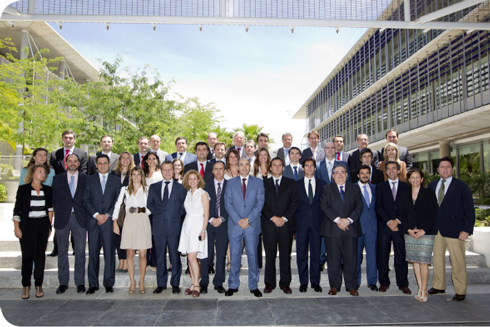 The company is aware of the fact that its competitive edge lies in its people, and much of the company's success is attributed to the extraordinary quality of its management team. Based on this conviction, Abengoa identifies potential senior managers and assists them in the process of developing their talent through the Executive Development Program, which ensures a highly qualified senior management team that is well prepared to execute the Strategic Plan.
In reference to the home country of the senior managers in the countries where the company operates, shown below is the percentage of locally-hired senior managers for the different geographical areas:

As a further step in talent management, each year an ambitious Intercommunication Plan is implemented, bolstering the identification programs already in place for developing and tracking professionals offering the greatest potential and ensuring a two-way information flow and effective information management.
In addition, every two years Abengoa prepares work climate surveys to gain further insight into employees' perception of the company and its management processes. A monthly work climate survey on employee satisfaction is also conducted at the company's headquarters. The results of these surveys are reported directly to senior management.

Opportunities for students and recent graduates
Keenly aware of the difficulty young adults are having in gaining access to the job market, in 2012 Abengoa encouraged and helped domestic and international students and recent graduates join the company's internship program, increasing the number of grants in all company departments and activities.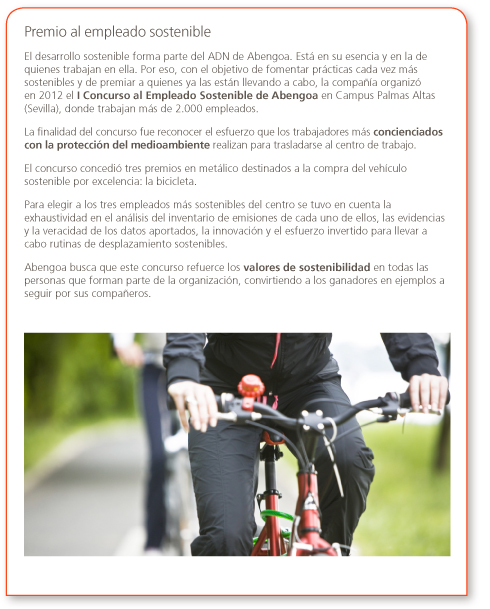 Employee benefits
The employee benefits that Abengoa offers its workforce facilitate, among other things, the work-life balance of the people who work at the company.
This program of employee benefits is managed through the Focus-Abengoa Foundation, which directs its efforts wherever the company has a presence and wherever they are most needed.
Noteworthy among the company's employee benefits are the following:
Academic grants and scholarships for company employees and children of company employees.
Life and accident insurance.
Employee welfare assistance though a social welfare department in place to keep track of specific personal, family-related, social or economic problems, as well as a social fund set up to provide economic support to deal with them.
La Antilla summer residence in Huelva, Spain, which offers employees the chance to enjoy a vacation at the beach at affordable prices.
Pension plans designed in accordance with the specific features of each country in which the company operates, applying the regulations of each region.
Flexible pay for Abengoa employees in Spain. Implemented in 2010, this measure enables employees to make the most of available net compensation, allocating a portion of their annual compensation to the acquisition of products and services at highly competitive prices. The scheme includes day care vouchers, health insurance, training, computer equipment and restaurant vouchers.
Canteen service at work facilities with a large number of employees.
Fitness centers equipped accordingly for physical exercise and group activities.
Subsidized day care service with a capacity for 145 children at Abengoa's main headquarters, Campus Palmas Altas, located in Seville.
Medical service to enhance employees' healthcare coverage at work facilities with a headcount of over 300 people.
Free transportation at a number of Abengoa work facilities.