Temporary ABC exhibition, "The Iceberg Effect. Spanish drawing and illustration between the ends of two centuries"
The "The Iceberg Effect. Spanish drawing and illustration between the ends of two centuries" exhibition took place between May and July 2011 at the Hospital de los Venerables in Seville. Curated by art critic and historian Juan Manuel Bonet, the exhibit included 350 exemplary pieces from the ABC Collection, which comprises around 200,000 works.
Visitors were treated to over a century of Spanish history, illustrated through the works of important painters such as Maruja Mallo, Ramón Gaya, Benjamín Palencia, Penagos and Bartolozzi; newspaper cartoon masters including Joaquín Xaudaró, Tono, K-Hito, Antonio Mingote, Chumy Chúmez, Máximo and Sancha; and professional illustrators and sculptors.
The importance of this exhibit lies in the wide range of works included, enabling visitors to find out about the mechanics of Spanish drawing in the 19th century, illustration, and caricature art.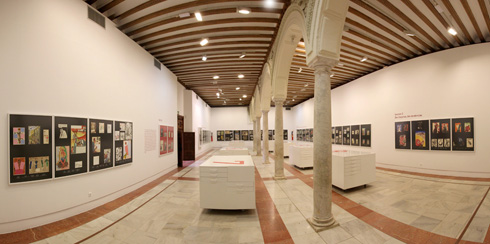 Music
The Focus-Abengoa Foundation has been organizing a variety of musical activities with the aim of disseminating organ music for 20 years:
Promotional concerts, featuring Spanish organists who have earned top grades in completing their organ studies at the higher music conservatories.
Master Concert Series, with performances by three prominent figures in organ music of renowned international prestige.
Organ course, offering prestigious organists the chance to take master classes.
Organ teaching recitals for students.
International painting Award
The winner of first prize at the 28th edition of the Painting Award held in 2011 was Miguel Galano. He received a cash prize of €24,000 for his work titled "Népliget".
The two second awards, each receiving a cash prize of €6,000, were Álvar Haro Sánchez for his work titled "Embarque para Citerea", and Ismael Iglesias Serrano of Bilbao for his work titled "CTRL+Z (XXX)".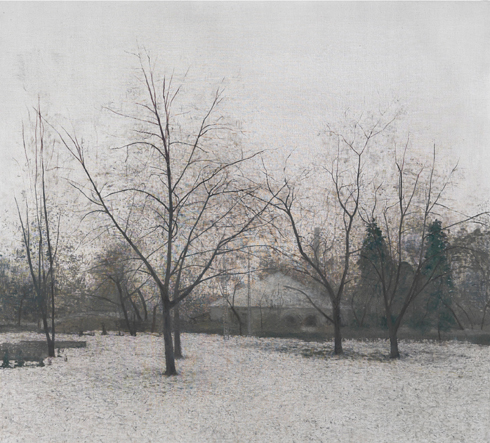 Miguel Galano's award-winning camvas in this years painting prize.
Collection of paintings, sculptures and graphic artwork
The painting, sculpture and graphic artwork collection comprises more than 200 works, thanks to activities such as the painting award, monographic exhibitions of prominent figures on the contemporary art scene, foundation acquisitions, and donations. In 2011, 33 graphic works of artists from the Juana de Aizpuru Gallery were acquired. Rendered using a variety of techniques, silk screen printing and etching, all of these works from the 70s to the 90s are numbered and signed by the artist.
Library and engravings room
The Focus-Abengoa Foundation library contains over 6,000 titles spanning the 16th century to our time, and all of them share the common elements of Sevillian authorship and a connection to the history of Seville.