Abengoa has undertaken a commitment to growing alongside the communities in which it operates, strengthening ties between the company and society and promoting respect for human rights within its sphere of influence.
Through the Focus-Abengoa Foundation, the company guides and channels its relationship with the community by creating initiatives that generate tangible and intangible assets and contributing to local engagement by establishing roots, while at the same time promoting scientific and cultural research and dissemination of foundation heritage. The strategic orientation of the Focus-Abengoa Foundation serves companies through which Abengoa conducts its business activities.
Since its inception in 1982, Focus-Abengoa has been engaged in pursuits of general interest in four major areas: aid and assistance, culture, education and research, and employee welfare. The foundation has thus effectively become the social force driving Abengoa forward.
The foundation understands culture as a hallmark of advanced societies that plays an essential role in social development and progress. Business activity must transcend the economic dimension and play a role in addressing social and environmental challenges.
Major foundation initiatives in recent years include:
Diego Velázquez Research Center.
From the Earth to the Sun, linked to the Focus-Abengoa Campus.
"Learning and Physical Education Practices: Everyone's Right", a universalized social program implemented in Argentina, Peru, Brazil, Mexico and India.
Focus-Abengoa Forum on Energy and Climate Change.
Creation of the Loyola-Abengoa Research Center in collaboration with the Loyola University Andalusia.
Since the 1940s, the work conducted through the Focus-Abengoa Foundation has sought to balance out economic, social and cultural development in the communities in which the company operates. In 2011, Abengoa invested over 13 M€ in the areas mentioned above.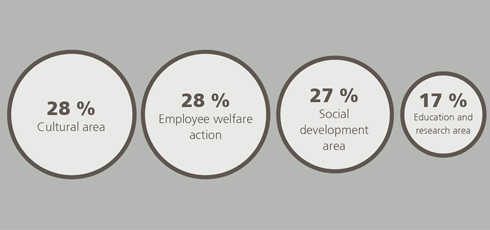 Percentage distribution of total economic investment in community action in 2011