As of December 31, 2011, the company employed 22,261 people, almost 9% more than in 20101.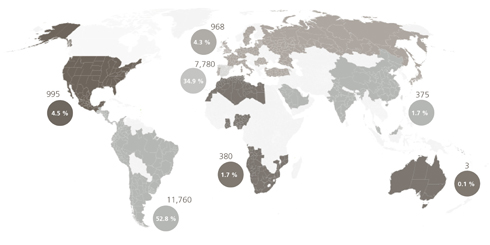 In 2010, the regions where the most jobs were created were North America and Asia.

By type of employment relationship – employee or worker – in 2011 up to 50% of Abengoa staff were on permanent contracts.


Average employee age at Abengoa, among men and women:

Employee turnover (non-discretionary voluntary departures) in 2011 was 0.88%, significantly less than in the previous year, when the figure was 1.55%.
Turnover rates by region and gender were as follows:


At year-end 2011, distribution among men and women at Abengoa was 15.9 %. Women accounted for 29.05 % of total Abengoa employees, as against 27.91 % the previous year.
Percentage of local executives in countries where the company operates:

1. The 2010 figures are stated exclusive of the Information Technology group – which was then still a part of Abengoa – to facilitate comparison with 2011.