Abengoa operates in over 70 countries on all five continents:

Latin America
Argentina, Bolivia, Brazil, Chile, Colombia, Costa Rica, Dominican Republic, Ecuador, El Salvador, Guatemala, Honduras, Mexico, Nicaragua, Panama, Peru, Uruguay and Venezuela.
North America
Canada and the United States.

Europe
Austria, Belgium, Bulgaria, Czech Republic, Denmark, Finland, France, Germany, Greece, Holland, Hungary, Iceland, Ireland, Italy, Lithuania, Luxembourg, Norway, Poland, Portugal, Romania, Serbia, Slovak Republic, Spain, Sweden, Switzerland, Turkey and the United Kingdom.

Africa
Angola, Algeria, Botswana, Egypt, Ghana, Libya, Morocco, Mozambique, Namibia, Nigeria, South Africa and Tunisia.
Asia
Armenia, Bahrain, China, India, Iran, Iraq, Israel, Japan, Jordan, Korea, Lebanon, Malaysia, Oman, Qatar, Russia, Saudi Arabia, Singapore, Sri Lanka, Taiwan, United Arab Emirates and Vietnam.
Oceania
Australia.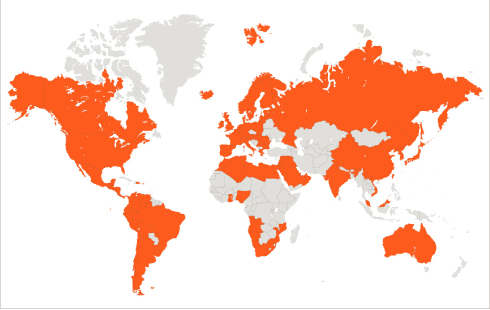 List of 2010 Office Openings by Business Unit