The transition to a model of sustainable development is the key challenge facing human society over the next few years. The challenge lies in being able to generate opportunities for economic development that will ensure future use of available resources.

For Abengoa, this constitutes both a challenge and an unwavering commitment, and is part of the company's approach to its businesses and the very essence of company strategy.

Within the framework of sustainability, climate change is one of the main axes of Abengoa's activity. Humanity needs to tackle the physical changes and the consequences of human activity for our planet's climate, which are affecting productive systems, resource availability, and social equilibrium. Climate change, therefore, has an impact on society's security and viability.
It is obvious, then, that steps must be taken towards lowering GHG emissions to thereby hold the concentration of emissions in the atmosphere to levels which, even while unavoidable alterations in the earth's climate occur, are compatible with present conditions for life.

In this regard, one of the conclusions from the UN Conference on Climate Change held in Copenhagen last December is the need to hold the earth's temperature increase to below 2º C.

This poses a global problem that calls for global solutions. Therefore, it is not enough for one country to lower its emissions, but demands monitoring and abating the emissions generated by the world's nations as a whole. It is essential that global decisions be made to ensure that economic development in the coming years will be accompanied by a reduction in greenhouse gas emissions; in short, paving the way for sustainable development.

GHG emissions are produced by fossil fuel consumption and there cannot be a significant emissions cut without a change in the energy model that gives rise to these emissions. Currently 80 % of the energy used in the world is of fossil origin, a fact that is utterly incompatible with halting climate change.

Renewable energies are at the crux of this new paradigm. Solar energy, wind power and biofuels constitute a viable alternative that is now available commercially. Hydrogen as an energy vector may also play an important role in the medium term.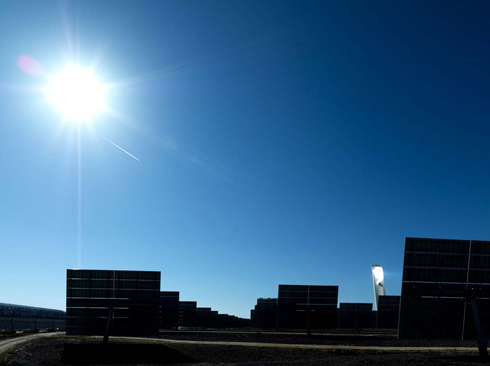 The solar radiation the earth receives contains energy that amounts to approximately ten times the energy presently being consumed. Therefore, the sun is an energy source with the capacity to meet today's needs by simply making use of a mere portion of its potential. At present, the costs of producing photovoltaic or concentrating solar power energy are beginning to parallel the costs of fossil fuel-based energy production. Generalized development and deployment of this type of energy, in conjunction with the internalization of the emission costs associated with fossil energies, would almost instantly make solar energy profitable with respect to energies of fossil origin, not only from an environmental standpoint, but economically as well. Concentrating solar power, furthermore, enables thermal storage systems which render ease in managing its integration into the power grid.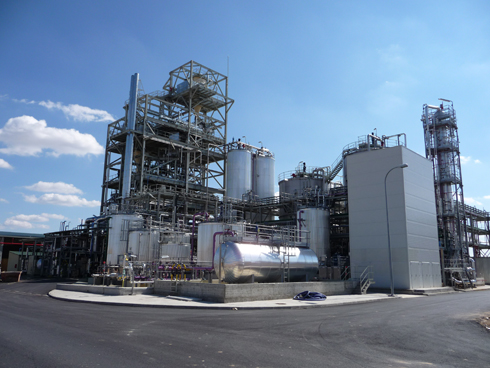 Wind power, in turn, is also an energy source which, while still limited, may make a significant contribution to a totally or fundamentally renewable energy mix..

Abatement of the emissions from the transportation sector, the cause of approximately a quarter of all GHG effluents, will require the use of alternative energy sources. In this field, biofuels are a readily available solution. Their use in hybrid vehicles, which run on an electric engine and another internal combustion engine, or those with conventional internal combustion engines, can lead to a very significant emissions reduction. In the case of hybrid cars running on E85 (85% bioethanol, 15 % gasoline) of average environmental quality, the emissions cut would be greater than that of electric cars with the same horsepower powered by the European electrical mix. Biofuel use does not alter the performance of today's vehicles, maintains autonomy, and does not require a significant modification to the current supply network or increase vehicle cost. In different parts of the world both flexifuel vehicles, running on 100 % bioethanol, as well as biofuels ensuring a GHG reduction of between 35 % and 50 % are currently being commercialized. Furthermore, generalized production of second-generation lignocellulosic biofuels, currently in their demonstration phase, will enable an even greater reduction in the emissions derived from transportation.

The change in the energy model is not only necessary, but constitutes a tremendous opportunity for creating wealth and jobs in a way that is environmentally and socially sustainable. This change in model will not only give rise to development, but will also yield energy independence and supply security..
Emissions
Computation of greenhouse gas (GHG) emissions took into account the direct emissions of all sources that are owned by Abengoa (combustion, process, transportation and emission leaks), indirect emissions from acquired electrical power, thermal energy and steam and the indirect emissions resulting from work-related travel, work commutes, losses in the distribution and transmission of electrical power and emissions in the value chain of fuels consumed for generating acquired electrical power. Likewise, the emissions involved in biomass combustion or processing are reported separately.

Emissions calculation was made based on the IPCC and GHG Protocol methodologies, using, whenever possible, specific fuel emission factors; and in other cases, national GHG inventory values of the countries in which our activities are carried out, and, as a last resort, generic figures published by the IPCC.

(1) According to the GHG Protocol Corporate Standard
(2) Including emissions from acquired electricity, thermal energy and steam.
(3) Including emissions associated with work-related travel, work commutes, losses in the transmission of electrical power and emissions in the chain of value of fuels consumed for generation of acquired electrical power.
For Abengoa, the greenhouse gas emissions inventory is a complete and mature instrument for ensuring responsibility with respect to climate change.

With respect to other techniques for footprint analysis of local scope, complete accounting of emissions commits all Abengoa companies, in all geographies, to integrating the supply value chain in determining emissions.

Emission measurement in the inventory conceived by Abengoa has comparative advantages over other instruments: it is thorough, both in terms of the consolidation perimeter, as well as scope; it is verifiable both internally and externally; it constitutes a global model upon which to base reduction targets; it binds suppliers to climate preservation policies.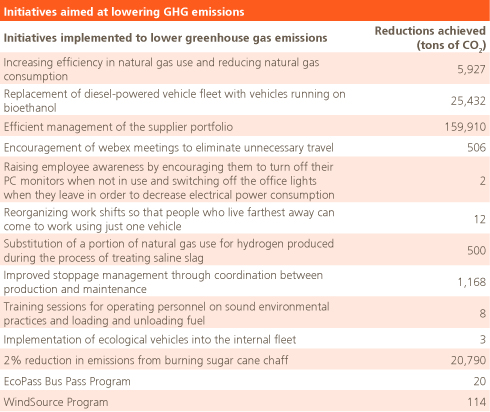 There is no record via the Abengoa reporting channels over the last three years of significant emissions of ozone layer-depleting substances deriving from company activity.
Emissions recorded in 2010 are listed below.


Managing Biodiversity
elements involving prevention, management and restoration of damage that may be caused to the natural habitats in which the company operates.

Always bearing this in mind, environmental impact studies and monitoring tasks were carried out on the activities being conducted on land adjacent to or lying within protected areas (Table 1), the identification of affected species, as well as quantification and assessment of derived impact (Tables II, III).

Conservation of these habitats is an objective that encompasses recovery plans and reforestation, strategies geared towards protecting plant and animal species, training in forest fire prevention, etc. (Tables IV, V).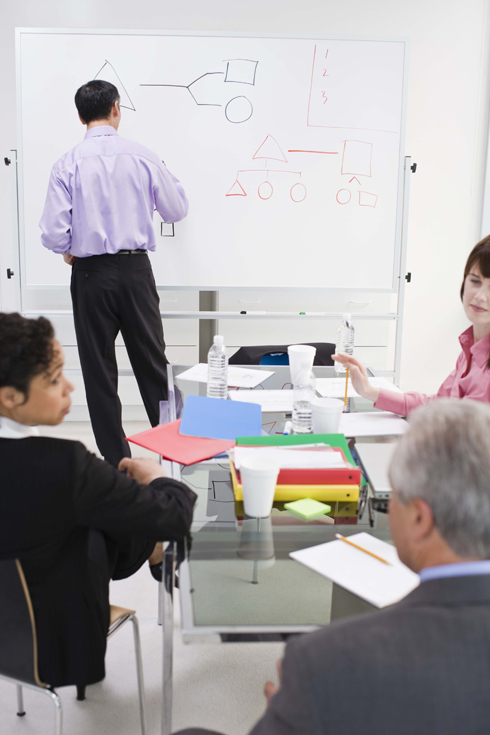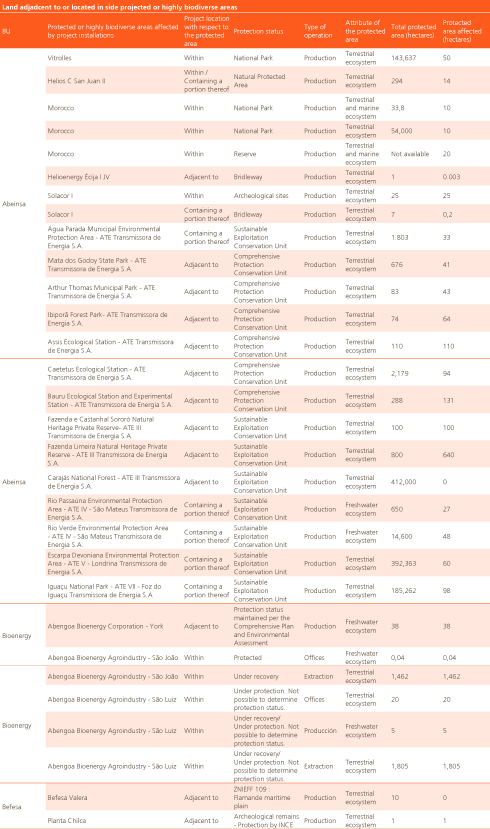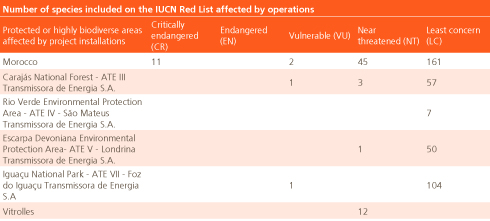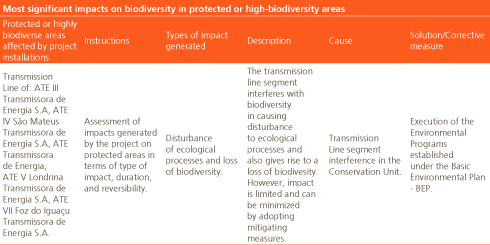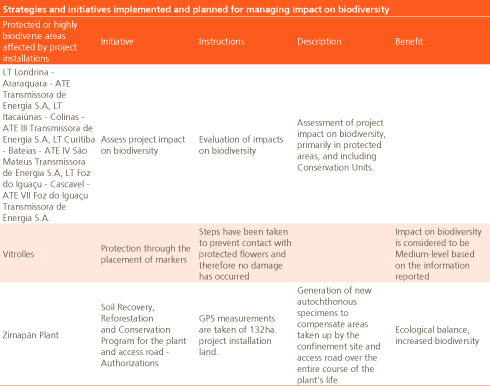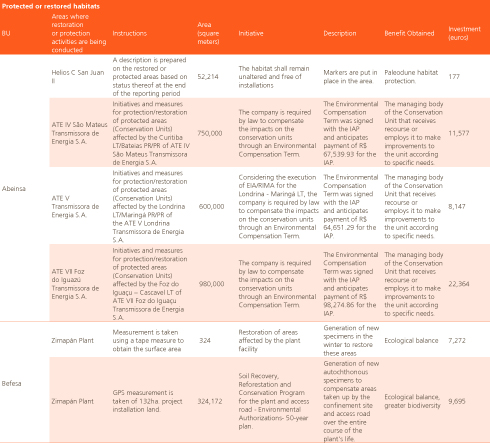 Abengoa is aware of the importance for its activities to contribute positively to maintaining biodiversity, minimizing impact, and establishing a positive correlation with the habitats and animal and plant species that are most sensitive to human activity.

The ESI system analyzes the biodiversity factor by means of the following indicators:
Sensitivity of the environment.
The potential impact of pressure exerted on the environment depending on the environmental quality of the areas surrounding project sites.
Project installations in protected areas
Knowledge of the environmental sensitivity of installation surroundings enables specific dimensioning of the environmental policies associated with the project.
Formal claims and complaints
Confirmed sanctions
Indicators associated with complaints, claims and sanctions determine the evolution of the activities in terms of their acceptability and conformity with the environment and the capability to respond to social sensitivity processes and instrumental activity in relation to biodiversity.
Environmental management systems
Environmental measures
Environmental protection expenditure

These indicators are directly related to the company's commitment in both the analysis of the evolution of the biodiversity factor, as well as the structural integration of the costs of environmentally and socially significant values.
Products and Services

Integration of environmental considerations associated with product and service design helps to lower risk and mitigate the resulting environmental impacts. Design that is favorable to the environment helps us take a more proactive stance in mitigating product and service impact, identify new business opportunities, and boost technological innovation.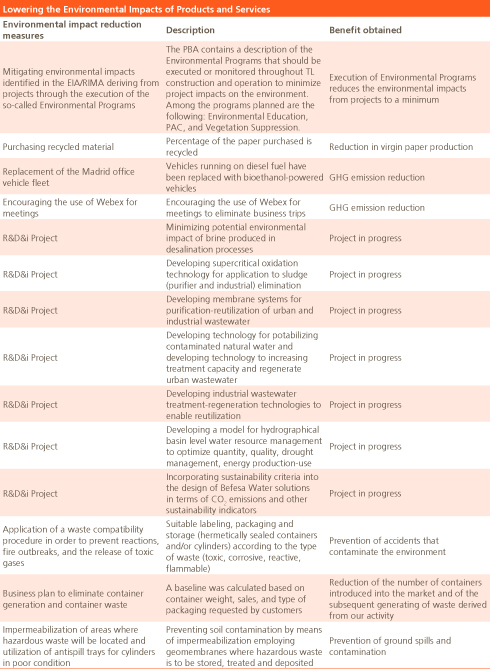 In certain activities, the environmental impacts of products and services that occur during utilization and at the end of their useful life may be of equal or greater importance than those resulting from manufacturing and pose an ever growing environmental challenge.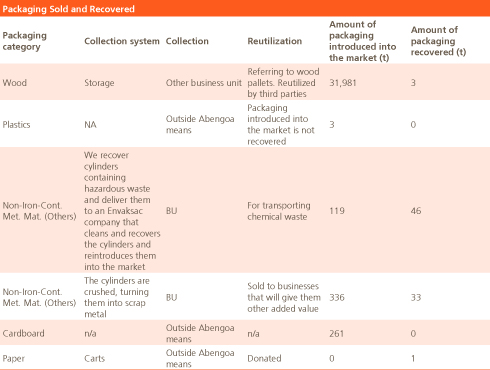 Environmental Expenditure

Calculating expenditure on environmental mitigation and protection helps Abengoa to determine the efficiency of its environmental initiatives. The following is a list of correction expenses and environmental expenses involving prevention and management.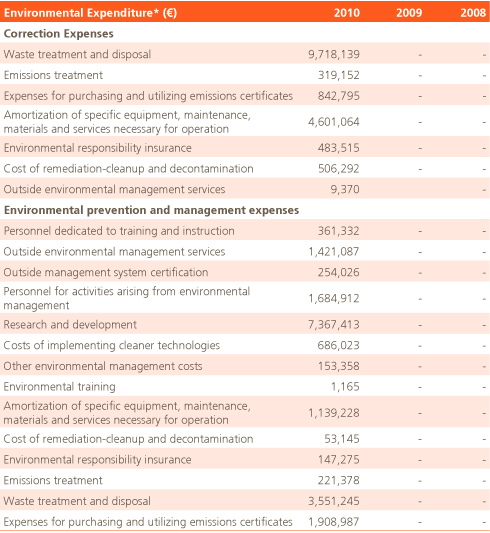 (*) 2008 and 2009 data are not available due to modifications to classification criteria
Four infractions involving unsuitable hazardous waste management in Murcia were reported in 2010 entailed a total cost of €330.557. These incidents occurred in 2001. Abengoa has no knowledge of any other incidents.