Share Structure
According to the information provided to Abengoa by the Sociedad de Gestión de los Sistemas de Registro, Compensación y Liquidación de Valores, S.A. (Securities Registry, Compensation and Settlement Systems Management Company) on the occasion of the last Ordinary Shareholders' Meeting held on April 11, 2010, Abengoa, S.A. shareholders totaled 11,338.
As of December 31, 2010, the company understands that its free-float capital totals 43.96 %, after deducting shares held by Inversión Corporativa I.C.S.A. and its Finarpisa subsidiary (56.04 %).

Key Figures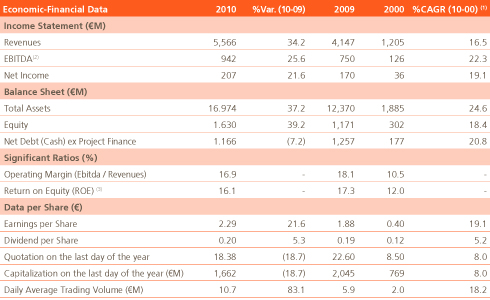 (1) CAGR: Compound Annual Growth Rate
(2) EBITDA: earnings before interest, tax, depreciation, and amortization
(3) Net earnings/ Shareholder's funds
Share Performance

Abengoa's shares ended fiscal year 2010 trading at €18,375, down 18.69 % from December 31, 2009 (€22.60), but up 763.2 % since the company was first listed on the stock market on November 29, 1996.

For the sixth consecutive year, the dividend paid out by Abengoa to its shareholders increased in 2010 to reach €0.19 per share.

For purposes of historical comparison, since Abengoa began trading shares on the stock market on November 29, 1996, the company's stock has appreciated by 763.2 %, which is 8.6 times the initial share price. During this same period of time, the selective IBEX-35 Index has appreciated by 111.2 %.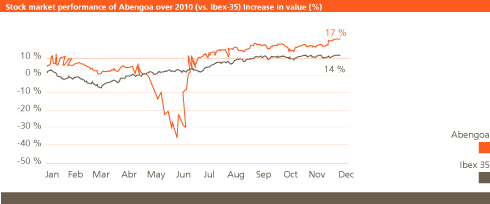 Economic and Financial Information
InformationIn 2010, Abengoa undertook to improve the quality of the economic and financial information disclosed via the corporate website by setting up an area intended to provide all sorts of information on Abengoa bond issuances (2014 Convertible Bonds, 2015 Bonds, 2016 Bonds and 2017 Convertible Bonds), as well as a section devoted to the company's credit ratings. This information can be accessed through the Investors section.
As a result of this effort, Abengoa, for the second straight year, received an honorary mention at the 9th edition of the "Spanish Company with the Best Financial Information on the Internet. Corporate Transparency and Reliability" competition, organized by the Spanish Association of Accounting and Business Administration (AECA), in recognition of the quality of the financial information issued via the corporate website.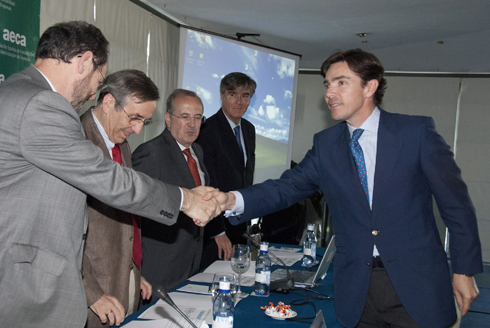 The judging panel acknowledged the improvement achieved by Abengoa with respect to the previous edition, awarding the company an honorary mention in the Ibex35 Corporations category.
Abengoa is aware of the importance of the stakeholders with whom the company interacts for company business and growth. Therefore, in addition to providing ongoing, transparent and accurate information on company activities, Abengoa seeks to foster stakeholder dialog through the channels in place, while developing other new means of more efficient communication.
Abengoa's website, which is published in both Spanish and English, constitutes the primary tool for communicating with stakeholders in general, and shareholders, investors and financial analysts in particular.